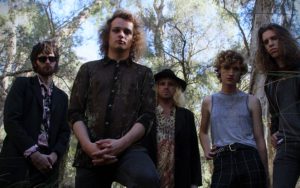 Over the past few years FUZZ TOADS have been serving the punters of Perth with their brand of hard-hitting, emotionally driven desert-rock; growing their fanbase and concreting themselves as a force to be reckoned within the local alternative/stoner/heavy scene. Now fully formed as a five-piece unit, FUZZ TOADS are, more than ever, a force to be reckoned with.
This year saw FUZZ TOADS deliver 'Ovals', the first single from their debut LP, with great reception and a promise that their upcoming release is something to be truly excited about.
Renowned for their powerful live performances, FUZZ TOADS are coming into 2019 with an even stronger live set; filled to the brim with psychedelic epics and bouncing, fuzzed-out deliveries designed to melt faces while keeping the listener in a state of constant delirium.
Jacob Diamond


Noah Dillon