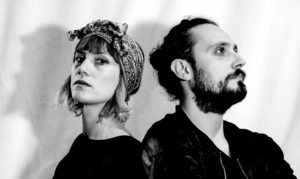 Formed in early 2018, Perth-based electronic duo Fourth State have effortlessly produced a timeless triphop, electro, pop sound.
Performing with a combination of sequencers, live percussion, guitar, analogue synthesisers, loop's and Ableton, Fourth State's live show is a captivation journey creating simple yet expansive landscapes with infectious melodies and soaring vocals.
Drawing on the influence of 90's trip hop artists such as Lamb, Massive Attack and Portishead, Fourth State emphasise on dynamic's and simplicity rather that pop hooks and rushed arrangements. Ed's experience and refined skill in electronic production combined with Leah's indie/folk singer/songwriter background intertwines beautifully and creates a natural organic workflow and prolific songwriting. .
Leah Miche | Vocalist/Songwriter
Edoardo Moriconi | Producer/Composer
The Tender Hearts


Duende Indalo