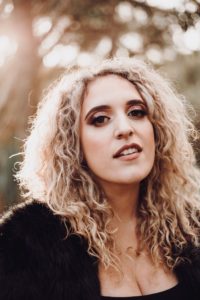 Most twenty-year-olds are innately frazzled, confused and hungover. It's an age where people are yet to get their lives sorted; they've no idea what they're doing or where they're going. Sydnee Carter, however, is an anomaly.
She's annoyingly talented and experienced for someone whose high school years only just came to a close. Her latest single Give It All Away is teeming with hope and naivety, her incredible voice animated by the irresistible optimism of youth.
Sydnee Carter proves that age really is just a number on her new track Give It All Away.
With a voice that defies belief (Carter has no formal vocal training) and a sense of determination so formidable it has blown her into a league of her own, Sydnee Carter is taking the music world by storm.
She's no newbie to the scene; she originally took the TV talent competition route as a fresh-faced 15-year-old, and in 2015 came out on top she earned a coveted WAMAward in the Under 18s category. She was also a finalist in Telstra's highly competitive songwriting tournament, Road To Discovery.
A year later she was accepted into the prestigious Western Australian Academy of Performing Arts to study contemporary music and found her first taste of overseas success performing showcases at Singapore's Music Matters conference.
With so much under her belt, it's no surprise that her music possesses a timelessness that reaffirms the age-old saying that age really is but a number. Stream Give It All Away below.
With Give It All Away, Carter reaffirms her position as one of Perth's, and Australia's, most prolific up-and-comers.
If millions of Spotify and Youtube streams and festival slots the country over weren't already enough, Carter has earned herself a reputation as a master collaborator, having worked alongside Slumberjack on the wildly successful Afraid Unafraid, Leroy Styles on the European hit Heart Beat and with Australian hip-hop icon 360 on the chart-topping album Vintage Modern. She's now at the helm of a four-piece band of virtuosos.
Carter has transcended the title of 'Next Big Thing' and has proved to fans and sceptics alike that she is, in fact, here to stay.
Yann Vissac


Dawesville Cut