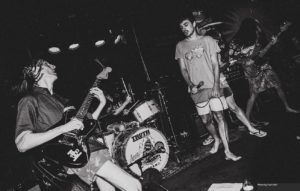 This HOT quintet from Perth are soaked and soldered in DIY punk sensibilities, and their music is similarly primitive, offering the sounds of a backyard party, beer sloshing in your sclera, a skip fermenting in your step, and irked neighbours running for the phone.
Their solos come often, but never linger; neurotic and taut, they skulk in and out, leaving a pleasant hollow twitch in your left ear. The lyrics, crude, trashy , half-spoken and half-shouted, seal it all off with a kiss and a jab between the ribs.
"Without a doubt, the BEST band in Perth." Bruna Chiovitti.
Sgt. Hulka


The Chevelles